Altamaha Riverkeeper News
Town Hall Meeting – Plant Branch Coal Ash Concerns, June 24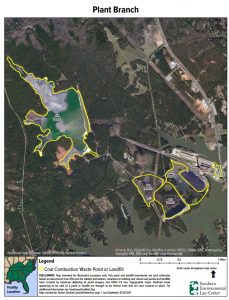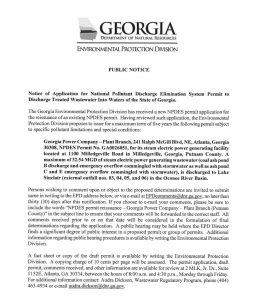 There will be a town hall meeting to discuss the dewatering (or draining) of coal ash waste ponds at Plant Branch in Milledgeville hosted by Representative Rick Williams on June 24. The town hall meeting is scheduled for 10 am to noon at Victory Baptist Church, 640 Meriweather Road, Milledgeville.
Coal ash is the waste byproduct left behind from burning coal for electricity, and contains toxic pollutants such as arsenic, mercury, selenium, chromium, and lead.
EPA has recognized that these pollutants concentrate up the food chain resulting in long-term damage to aquatic ecosystems.
Toxic wastewater discharged from the coal power plant industry is by far the largest category of industrial wastewater pollution, according to a detailed EPA studies. To put it in context, one-half of all the toxic water pollution released to the rivers of America comes from coal-fired electric plants.
As a retired coal fired power plant, Plant Branch stores millions of tons coal ash waste in its five ash ponds, in addition to impounded wastewater within many of the ponds.
Plant Branch sits adjacent to Lake Sinclair, a popular recreation site for boating, fishing, and swimming. The lake is home to residences, vacation rentals, campsites, picnic areas, a marina, and abundant aquatic life.
Georgia Power announced its plans to close these coal ash ponds, but it hasn't disclosed many details beyond a general timeline to the public, nor to EPD.
To close the ponds, Georgia Power will need to drain, or dewater, the impounded wastewater held in these ponds.
Pond dewatering is of particular concern – the wastewater sitting in these ponds contains high concentrations of toxic pollutants. This is the wastewater that Georgia Power will pump into to Lake Sinclair through dewatering.
The town hall meeting will occur several days before a public hearing scheduled by the Environmental Protection Division on June 27 at 7 p.m. at the Putnam County Administrative Complex, 117 Putnam Drive, Eatonton, Ga. to receive comments on the draft permit that would allow Georgia Power to drain the ash ponds.
There are so many ways that you can help keep our rivers clean and beautiful. Responding to Action Alerts or reaching out to your elected representatives. Find your way to get involved!