Altamaha Riverkeeper News
Hurricane Dorian Updates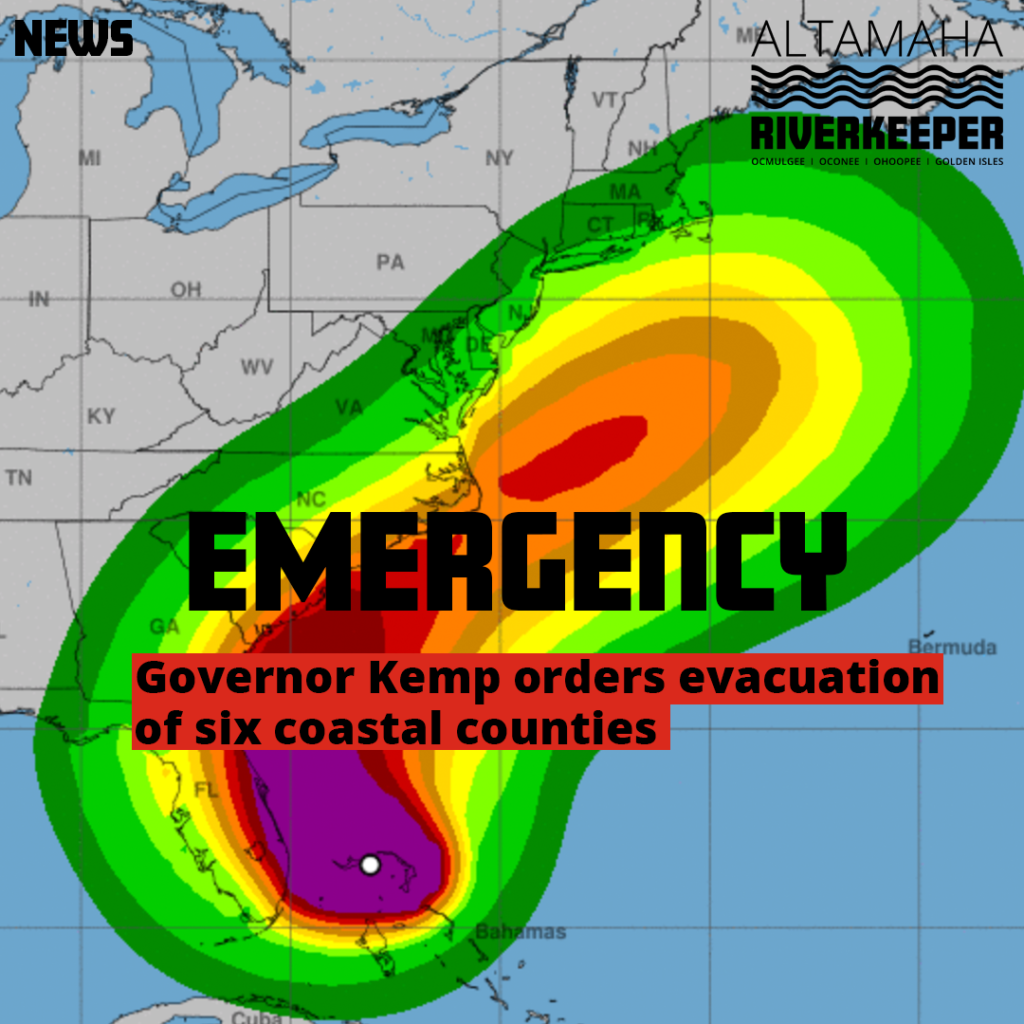 HURRICANE #DORIAN INFO
Key Messages From NOAA NWS National Hurricane Center:
As Hurricane Dorian approaches, the risk of dangerous storm surge and hurricane-force winds continues to increase in the Bahamas and Florida. It is too early to know exactly where these effects will occur. Residents should have their hurricane plans in place. High wind and heavy rains are expected in the Bahamas, Florida, and other parts of the Southeastern U.S. this weekend and into next week.
EVACUATIONS
Mandatory evacuations have been announced today for Bryan, Camden, Chatham, Glynn, liberty and McIntosh Counties. Projected storm tracks can change quickly, keep track closely using resources below.
Residents of coastal Georgia and the lower Altamaha River region are urged to be proactive. In cases of a storm approaching, traffic and weather can be expected to worsen. Please have a plan ready and take precautions now to ensure the safety of yourself, your loved ones, and emergency responders.
FORECAST AND EMERGENCY MANAGEMENT UPDATES
This is a rapidly changing and potentially life-threatening situation. Please stay up to date by following these accounts:
NOAA NWS National Hurricane Center
Georgia Emergency Management and Homeland Security Agency
U.S. National Weather Service (NWS)
US National Weather Service Southeast River Forecast Center
Local government pages such as Glynn County Emergency Managementand McIntosh County Emergency Management
ADDITIONAL RESOURCES
– For info on appropriate preparations see ready.gov
– For info from the state of Georgia see gema.ga.gov
– Map of USGS rain gauges throughout the basin
– A useful guide on storm effects and prep from NWS Charleston: http://bit.ly/2LibYCK
If you are in search of a shelter, call 311 or find American Red Cross listings here: https://rdcrss.org/2LicgcO
Friends like you are the eyes and ears of the river! If you document significant flooding, damage, or high water around the watershed, share them with us! DM or E-mail photos and video to fletcher@altamahariverkeeper.org.
There are so many ways that you can help keep our rivers clean and beautiful. Responding to Action Alerts or reaching out to your elected representatives. Find your way to get involved!